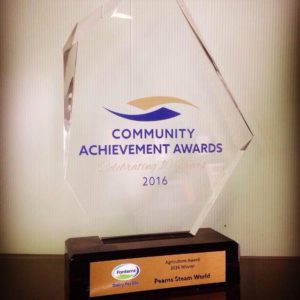 Pearn Girls Jean, Ruth and Anne were at the awards ceremony last night and accepted the Community Achievement Agriculture Award for Pearns Steam World.
Pearns Steam World has been operating at Westbury since 1987 and features a nationally significant assortment of steam traction engines, tractors, farm equipment and memorabilia collected from the 1950's by the three Pearn brothers, Jack, Verdun and Zenith.
After saving many steam engines from the scrap metal yard, they could not see their growing collection dispersed, and in 1987 with community support developed Pearns Steam World.
In 2001 the brothers donated their now extremely valuable collection in trust to the local community.
Pearns Steam World strives to be Tasmania's key agricultural museum.
Open daily the museum is run entirely by volunteers and brings visitors from all over the world to Westbury.