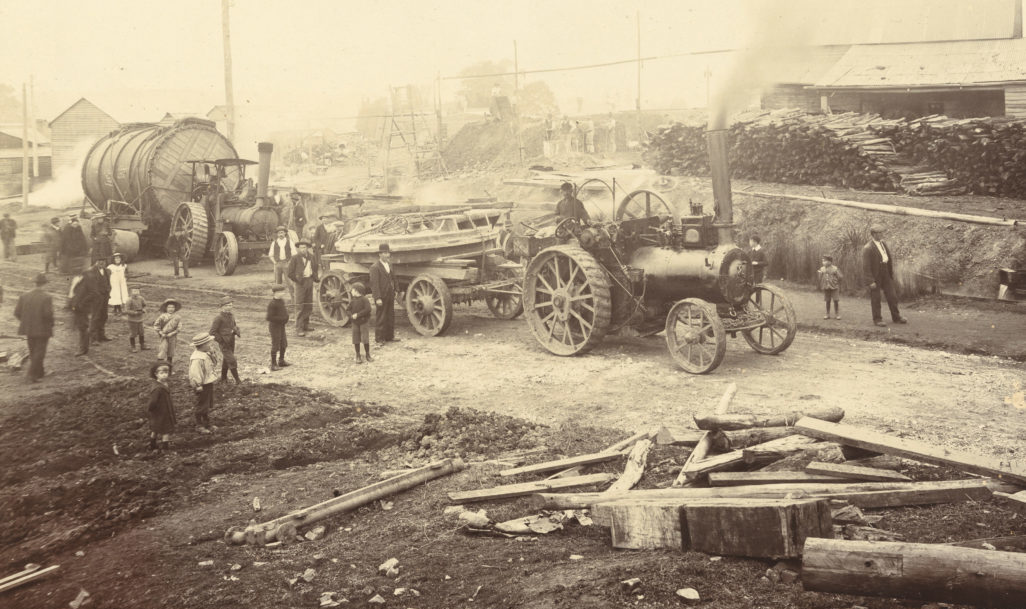 The Pearns and a short history of our collection
The Pearn family agricultural contracting business operated for over 80 years in the Westbury district. In the 1950s, the Pearns recognised the passing of the steam era and began collecting engines, tractors, equipment and memorabilia. Pearn's Steam World collection of over 200 major items receives high praise from worldwide visitors and is the best in the Southern hemisphere.
Since its establishment in the 1980s, the museum has been run by volunteers and family members dedicated to the preservation and restoration of the collection.
A Start in a New Country – Immigration from England
Left a widower with three surviving children, William, John and Sarah, John Davis Pearn married his governess Redigan Brown and migrated to Tasmania from Cornwall aboard the "Wellfleet" in 1858. John Pearn was aged 9 years old. John Pearn Snr had been encouraged to come to Tasmania as skilled tradesmen and craftsmen were in short supply.
He wrote in his diary:
"On January 18, 1858 (Munday) we left Plymouth about 6 o'clock and everything was in confusion on board that night, some of the passengers had no birth, they were obliged to ly on the tables that night, we all had our births and I made up our beds and got in all my boxes – except my toolchest which was put below."
John Pearn Snr was a wagon maker as well as a skilled cabinet maker and coffin maker and prospered as a tradesman and as a farmer. The family leased and eventually bought a small farm in the Whitemore district.
Agricultural Contracting Begins
One day John Pearn went to Cluan Homestead, which was then occupied by Mr. Hall, to see if he had any work. The interview must have been successful, as he ended up both working for Mr. Hall and marrying his daughter Edith in 1870 at the age of 21. In 1885, he purchased a Robertson threshing drum and a portable Marshall steam engine. The Robertson drum is now part of the Pearns Steam World collection.
John died in 1900 as a consequence of an accident caused by lowering the chimney stack from a portable steam engine and Edith was left to raise and care for a family of eight. With the money from John's insurance, Edith updated the family's agricultural machinery and developed the agricultural contracting business based at "Alvira". A Marshall single cylinder, eight horse power traction engine was bought in 1900 for £600. A new threshing drum, chaff cutter and press for hay and straw baling were also bought.
The harvest began with Howard's at Cressy, which was an earlier district and gradually worked to Bracknell, Whitemore, Cluan, Glenore, Adelphi through to Dairy Plains; a total of 67,000 bushels a season was threshed.
Two of John and Edith's children were the twins Edward (Ted) and Henry (Harry), born in 1884. The twins worked with Edith to build up the contracting business that John Pearn had started.
Edith Pearn was resolute in ensuring that the local farmers did not take advantage of her position as a woman operating a business in an industry dominated by men. Apparently some would try to take advantage of her by objecting to payment but her statement of:
"I will take your insults as compliments and allow for arrogance. Anyone with any breeding would not behave in such a manner" was renowned for achieving settlement of any outstanding accounts.
Edward married Eliza Rockliff and their 3 sons worked with their father in the family business. These brothers were John (born 1914), Verdun (born in 1916, (the year of the Battle of Verdun in France) and Zenith (born 1923 allegedly named after the Zenith carburetor). Gwyneth was born in 1927 and a second daughter Joan died as a teenager in 1934.
The brothers Edward and Henry eventually developed their own businesses. Edward concentrated on agricultural contracting from 1935, after a period as a car salesman. Henry worked with heavy earthmoving machinery. The business started by Henry is still operated by family members who have also diversified into livestock carting. These are now significant businesses in Tasmania.
In 1935 new machinery was bought including an eight horse power Foden 1909 traction engine, a five foot Garrot Drum, an Andrew and Bevan Chaff Cutter and rebuilt a press. This was used until 1950.
The three sons, John (Jack), Verdun and Zenith (Zen), worked in the district with their father Edward up until World War 2. The business was based on their farm "Sunnyside" at Hagley. Jack and Zen were conscripted into the army and Verdun worked the contracting business with his father and then his mother Eliza and sister Gwyn after Edward died in 1944. After the War, the sons re-established the business which became "Pearn Brothers, Hagley".
The Collection Begins
In the 1950's, the Pearn brothers saw that the age of steam and threshing was giving way to tractors and self propelled headers. The last contracting job completed by the thresher was carried out in 1953. All machines used by the Pearns were kept in good working condition in sheds and when other farmers sold their machines for scrap the Pearns purchased sixteen more engines throughout the years.
They decided to collect a representative sample of the steam engines operating in the state. They were already operating Marshall and Bulldog tractors on the farm and in the business. When other farmers and sawmillers sold their machines for scrap, the Pearn's purchased many of them for their collection Spare time was not used for recreational activities, instead it was used to polish and paint the engines.
And so began the Pearns collection of steam traction engines and farm machinery, a hobby that involved all members of the family in recovering, restoring and operating the giants from the past and eventually creating the largest private collection of its kind in the Southern hemisphere.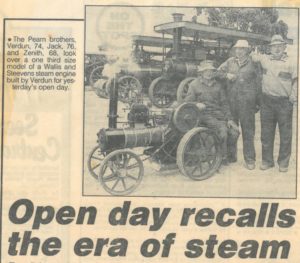 Steam rallies were held at the family farm, "Sunnyside", during the 1960's with thousands of dollars raised for Red Cross and Rotary. Steam engines were taken to both Launceston and Westbury shows. The engines were driven to the shows, this slow process may have taken one engine seven hours to complete and at a speed of a fast walking pace. This commenced in 1972 and continued for another fourteen years. Other trips made by the engines were to Deloraine, Devonport, Symmons Plains and Cressy either for shows or agricultural displays.
In the 1980's the collection moved to the present location, on the site of the old Westbury saleyards. With the help of Rotary, Apex and a few volunteers they established one shed. By fund raising, the volunteer organisation of Pearn's Steam World managed to raise enough money to build a second shed, costing $80,000.
Funds raised at the Steam Rallies built the Red Cross retirement homes in Westbury and the children's road safety training facility in Launceston.
With the move to the present site, the Westbury Preservation Association Inc was formed to protect the collection for future generations. The collection is run and operated by members of the Pearn family and a team of enthusiast volunteers.
The Pearn brothers:
John (Jack) Maxwell Pearn
John (Jack) Maxwell Pearn was born on the 15th January 1915 and was the eldest of the three Pearn Brothers.
As the eldest child Jack was given responsibility from an early age, and was sent out at daylight to light the fire in the steam engine so that it would be ready for work straight after breakfast. From five years of age, he was capable of operating a steam engine on his own; steam was a passion that remained with him for the rest of his life.
He rode his bike to the local school at Glenore under the watchful eye of teacher, Mrs Ward. He completed his education at the age of 14 before returning home to work on the family farm.
During World War two, Jack served for four and a half years in the Royal Australian Engineers Division which included service in New Guinea. Whilst working at Lae, a machine he was operating fell on him, causing him to break his knee cap. It was 10 days before he was able to be airlifted back to Australia for treatment. Due to the length of time since the injury occurred his knee was never operated on, causing him problems for the rest of his life. Like many troops who served in tropical areas, he contracted malaria and suffered repeated bouts for 23 years after his return home.
During this time in New Guinea, the following poem was written about Jack.
Memories of a Friend
In civvy life he's on a farm
"Midst rural Hagley's rustic charm.
For many years he's tilled the soil
With vigorous, and honest toil.
Then comes a second world wide war
And brave men's hearts are filled with awe.
Our country's in this deadly strife
To help secure the nations life.
And so our friend to camp is called,
And in a army hut installed
With many fellows "Strange", thinks he,
"But all for rights and liberty'.
It seems so grim, this army drill.
He goes to it with sturdy will
To do his bit, and then return
To Hagley, is his chief concern.
And whilst in camp, (Oh, what a dump),
He came at last to work the pump,
And help the cobbers with their work.
His duties he will never shirk.
Upon the job in pensive mood
Our pump-house hand will sit and brood.
His mind is mechanical, –
Occasionally fanatical.
He conjured up a nimble plan
To cool the pump; – he made a fan.
This job has brought him well-earned fame,
For to inspect it many came.
You'll find him smudged with grease and grime
Repairing bikes, – to bide his time.
His hours never idly spent,
For Jack needs work to be content.
No matter what machine it is,
Completest knowledge will be his
He has outstanding aptitude,
And engineering attitude.
And when his thoughts are most intent,
On calculating problems, bent,
He seems impervious to time,
And ambles on in peace, sublime.
Some day; I hope that he's succeeds,
And bring to us inventions need.
For then a brighter day shall burn.
For our old friend, 'Good luck, jack Pearn'.
Upon returning from New Guinea, Jack met and married Jessie Newton. He used his war service savings as a deposit, to purchase their property 'Standish', at Station Lane, Hagley.
Following their retirement from farming, Jack and Jessie moved to Westbury and so began the Pearns Steam World dream. Jack died on the 3rd July 2003, leaving behind his wife Jessie and his three daughters, Jean, Anne and Ruth.
Verdun Edward Pearn
Verdun Edward Pearn was born on the 7th December 1916 and was named in recognition of the Battle of Verdun in France. As a baby he very nearly didn't survive after contracting both whooping cough and measles.
Even as a small child, Verdun had an enquiring and mechanical mind. At 15 he built a working model traction engine in the farm workshop, using various bits and pieces he found.
For example:
• The flywheel was off an old highchair,
• The wheels were made of tin cut from kerosene tins,
• The gauge glass was once an old car fuse,
• The control rods were fabricated from bicycle spokes,
• The steering gears were from a car speedo drive,
• Some of the brass work came from old horse harnesses,
• The gears were from a small separator and a gramophone
• An old alarm clock also gave up some gears and brass pieces for this project.
Verdun's father, Ted, was so impressed with the model engine the he bought a sheet of copper for Verdun to finish the engine and make the tender. This cost thirty shillings.
With both of his brothers serving in the Australian Army, the farm and contracting business fell to Verdun. With the assistance of his younger sister Gwen, the Pearn family continued the harvesting round with the use of older men and boys.
A natural mechanic, with a flair for physics, Verdun could repair or make anything. When something broke the whole district would bring it to Verdun to fix.
In later life he built his own sailing yacht in the farm workshop, before moving on to make the model steam train, and two model traction engines which are used here at Pearns Steam World.
Verdun died on the 20th September 2014 – in his 98th year. His was survived by his son Geoffrey. His wife Dorothy having predeceased him.
Zenith Douglas Pearn
Zenith Douglas Pearn, was born on the 8th April 1923. Despite his mother choosing the name Douglas, his father registered his birth with the more unusual name of Zenith (Zen), which he had taken from a carburettor of a vehicle called a Cubit.
Although capable in the operation of steam traction engines, Zen preferred diesel power. In the 1950s the brothers purchased bull dozers and excavation equipment with the majority of the contracting jobs throughout the North of the State undertaken by Zen throughout the North of the State.
Along with his brothers, Zen also attended the Glenore school and was awarded a Merit Certificate which would have allowed him to attend high school in Launceston. It was an opportunity he didn't take up.
During the Second world War, Zen served in the Australian Army as a gunner, but large guns were of little use in jungle warfare so he was redeployed to Cairns where he spent his time loading and unloading war supplies at the wharf.
Despite collecting many of the older tractors at the museum, his first love was vintage cars. Along with his wife Gladys, they attended many rallies throughout Australia. At one time he owned and restored an early model Citroen and an American made Reo, along with a Black Panther motor bike.
Zen died on the 8th August 2002 after a short illness at the age of 79.
He was survived by his wife Gladys.
Edith Pearn (nee Hall) 1849 – 1936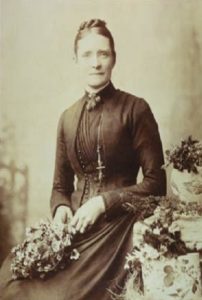 Edith Pearn was a true farming pioneer. For over 30 years she was a highly successful agricultural contractor at a time when agricultural businesses were dominated by men.
Born in 1849, Edith Hall was in her late teens when John Pearn came looking for work on her father's farm. Two years later they married. The couple had eleven children, although three died early in life, including two from diphtheria in the same week.
Eventually the Pearns were able to buy their own property, known as 'Alvira'. In 1885 they began to augment their farm income by contract grain harvesting for neighbouring farmers using their steam driven harvesting equipment.
But tragedy struck in 1900 when John died as the result of a farming accident. Left alone to support her large family, Edith took a courageous decision. She resolved to expand the contracting business using John's insurance money to upgrade the family's harvesting machinery. It was an enormous gamble for a woman on her own.
Edith's first purchase was a Marshall single cylinder, eight horse power traction engine for which she paid £600, a very expensive purchase for the time. She also purchased a new threshing drum, a chaff cutter and a press for hay and straw baling. Her original threshing drum remains part of this collection.
Assisted by her two eldest sons, sixteen year old twin boys Henry and Edward, Edith set about expanding the business, threshing close to 70,000 bushels of grain a year.
Recorded in many farm ledgers of the area simply as 'Mrs Pearn, Contractor', Edith was respected as an astute business woman with a sound knowledge of local farming practices.
When Edith died aged 87, she left behind a thriving enterprise. Today, four generations later, Edith's descendants operate well known agricultural businesses transporting livestock, cleaning seed and supplying large earth moving and grain harvesting equipment all over Tasmania.
Eliza Pearn (nee Rockliff) 1883 – 1962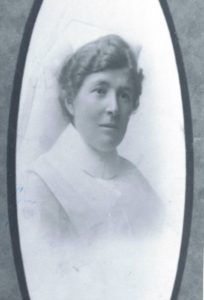 In 1883 Eliza Pearn was the first white female born in Numurkah, Victoria. Her parents, John and Eliza Rockliff, had travelled from their Tasmanian home on horse and dray to pioneer farming in this new developing area.
As the eldest of four children, one of her first farm tasks was to chase large mobs of sheep up and down the paddock to push the freshly spread grain firmly into the light soil to ensure germination.
Sadly, due to the lack of medical assistance, her mother died of peritonitis when Eliza was just 12. This may have prompted Eliza at the age of 17 to train as a nurse at the Royal Prince Alfred Hospital in Melbourne, costing her father the large sum of £50 a year.
In her late 20's Eliza came to Tasmania with the intention of becoming the Matron at the Beaconsfield hospital. However, she met Edward Pearn at a picnic and her formal nursing career was over as she took on the role of a farmer's wife.
The couple were married in 1914 and set up home at 'Coonara', at Adelphi near Whitemore, and went on to have five children; John (Jack), Verdun, Joan, Zenith and Gwyneth. Sadly Joan died at the age of 15 from a now treatable medical complaint. As one of the few trained nurses in the district, Eliza was often called on to assist local families at times of life and death.
In 1928 the family purchased their own property "Sunnyside" at Hagley.
During the 2nd World War, Jack and Zenith were called up for Active Service. In 1944, while these two sons were overseas, her husband Edward died, leaving Verdun and Gwyneth to operate the family farm and contracting business. Gwyneth spent much of the war years driving a team of horses on tasks such as ploughing and cutting peas, in addition to her household duties.
Eliza kept a close watch on the farm accounts and the business thrived. Following the return of Jack and Zenith from the Australian Army, the family began trading as "Pearn Bros. Hagley".
A gifted pianist, Eliza's piano was often carried down to the barn so that the locals could enjoy a night of fun and dancing.
She was a great cook and was regularly required to feed large numbers of men often at very short notice.
Despite being the matriarch of a one of the most mechanically minded families in the district, like many women of her generation, she never learned to drive a car. Eliza died in 1962 at the age of 78 years.
Pearn's Steam World
Address: 65 Meander Valley Rd, Westbury, Tasmania, 7303 Australia
Phone (03) 6393 1414
Email: contact@steamworld.com.au
Hours: Daily 10am - 3pm
(Except Christmas Day and Good Friday)
Admission: $10 Adults; $5 for children aged 5 - 15; free entry for children under 5.
Group bookings are welcome